You can only manage what you can measure. The top companies track their key performance metrics such as revenue and profitability constantly. QlikView, the first-generation BI solution started the shift towards more agile data discovery approaches, kicking off the data analytics revolution. Qlik Sense the latest generation of Business Intelligence platform, upped the ante with its one-of-a-kind Associative Analytics Engine, powerful augmented analytics, and high-performance multi-cloud architecture. Qlik Sense supports the full range of analytics at enterprise scale and provides an end-to-end offering for governance and manageability as you take on the BI journey.
As a leading CRM/CX and Analytics solution provider, Ambit provides a full range of Qlik Sense consulting, implementation, migration, integration, and support services. We offer Qlik's self-service visualization, guided analytics apps and dashboards, conversational analytics, custom, and embedded analytics, reporting, and data alerting. With our exclusive CLIF Methodology, we help you empowering everyone in your organization to make better decisions, creating a truly data-driven enterprise.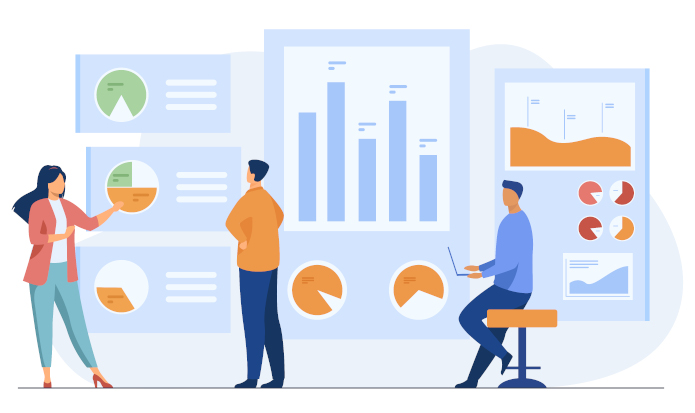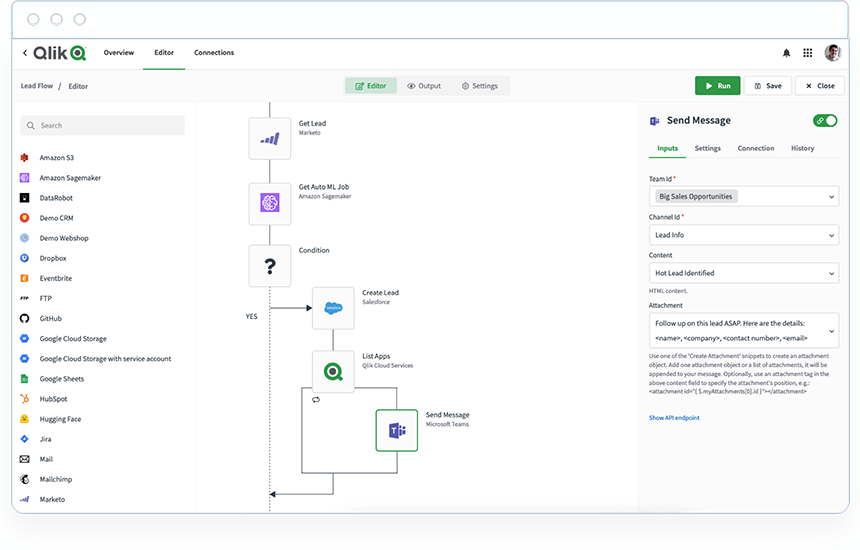 Self-Service Visualization and Discovery
Easily combine, load, visualize, and explore your data, no matter how large (or small). Ask any question and follow your curiosity. Search, select, drill down, or zoom out to find your answer or instantly shift focus if something sparks your interest. Every chart, table, and object is interactive and instantly updates to the current context with each action. Smart visualizations reveal the shape of your data and pinpoint outliers. And get faster time to insight with assistance from Insight Advisor for chart creation, association recommendations, and data preparation.
Interactive Dashboards
Create, share and distribute powerful dashboards to support executives, business leaders, and anyone else that needs to stay on the pulse of the business. Every element is interactive, taking users beyond the static dashboards of the past. When something stands out, easily dive in to explore what's happening. Powerful global search and selections help you quickly hone in on the information needed to understand the situation and take action. With Qlik Sense, dashboards become a powerful jumping-off point to make better, data-driven decisions.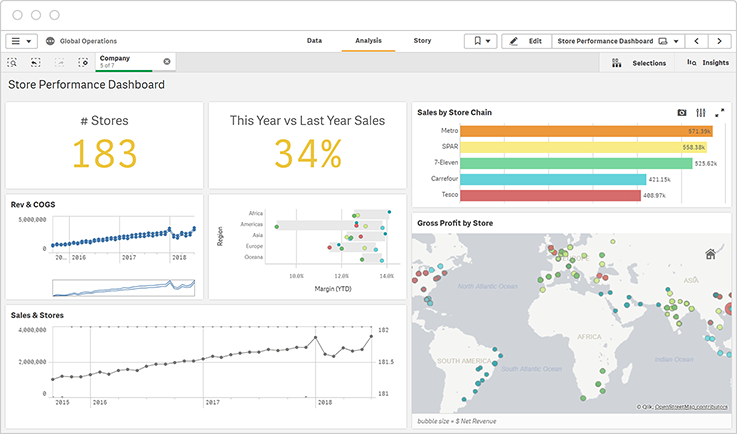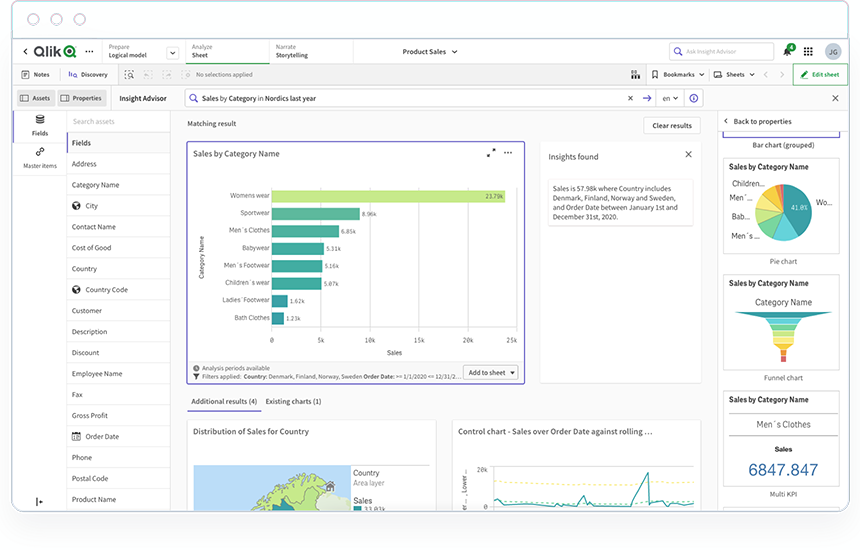 Search & Conversational
Search & Conversational analytics provide a simple and powerful way to interact with data and generate insights using natural language. With search-based visual discovery, Insight Advisor auto-generates the most relevant and impactful analysis and insights for the user, based on natural language processing (NLP). And with conversational analytics, you get a fully interactive natural language experience in Qlik Sense. Insight Advisor uses natural language processing and generation (NLP & NLG) to understand user intent and respond with answers and added insights, across all your Qlik Sense apps.
Custom and Embedded Analytics
Qlik Sense is a complete data analytics platform that helps you tackle even the most complex analytics challenges. The complete set of open APIs enables you to fully customize analytics solutions. Rapidly develop custom apps, new visualizations, and extensions, or embed fully interactive analytics within the applications and processes people focus on every day. And Insight Advisor offers advanced analytics integration with real-time, engine-level data exchange, so users get the interactive power of Qlik Sense to explore predictive calculations from third-party data science tools such as R and Python.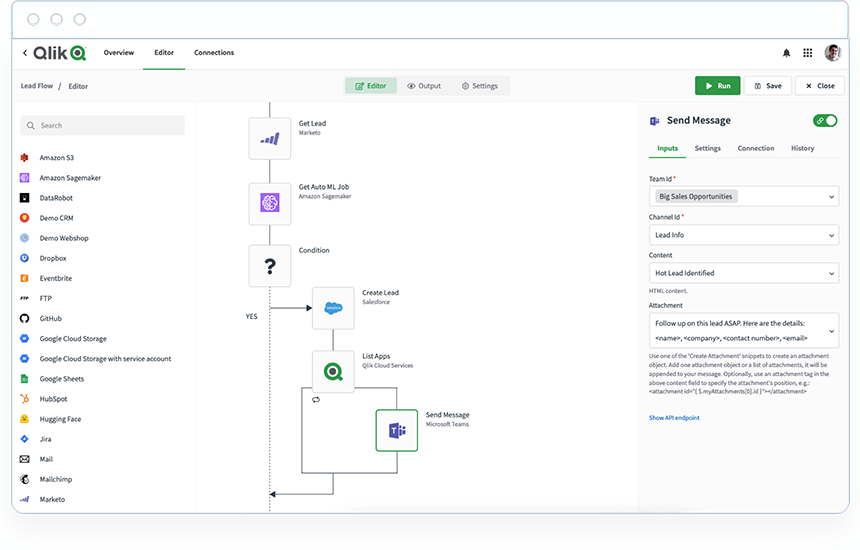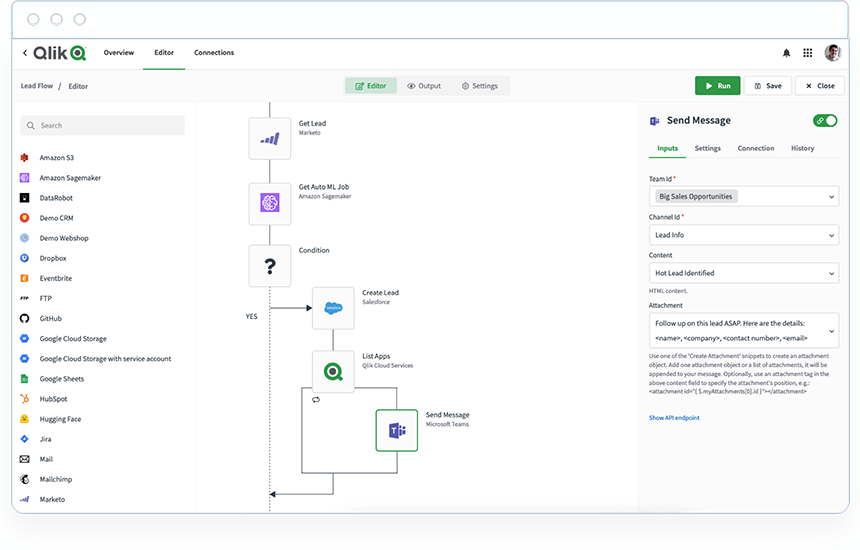 Reporting & Alerting
Immediately react to changes in your data with alerting and automation. Provide sophisticated, data-driven alerts that help users proactively monitor their business and take timely action based on insight. Unlike other products, our alerting technology is fully data-driven, not based on individual visualizations, so you can monitor all your data without limitations. And go beyond alerting with event-driven actions which automate routine tasks and enable your key tools to work with your analytics. Use Application Automation, our visual low-code environment to turn insights into actions wherever they need to occur.