Ambit Software featured in CIO Review Magazine cover story and ranked amongst the Top 20 most promising ERP and CRM providers.
Pune, India – 27th January 2016 – Ambit Software, a leading ERP and CRM solution provider company, is featured on the cover page of CIO Review Magazine for its "Digital Transformation" Solutions with cloud based ERP and ranked amongst the Top 20 most promising ERP and CRM providers for 2016.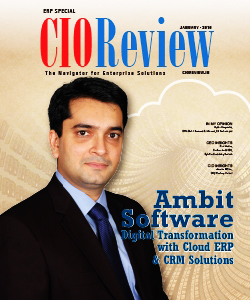 Partnering with pioneers in cloud ERP to enhance growth rates of companies, Ambit Software renders solutions to accomplish successful ERP implementations. With offices in Mumbai – India, Orange County – USA and Dubai – UAE and delivery centers in Pune and Navi Mumbai, Ambit has been working with over 200 customers across the globe since its inception in early 2001.
Ambit is at the forefront of these technologies and helping its clients through a combination of strategy, design and technology services to digitally transform their enterprises or create new digital driven business models. One of the leading industrial equipment companies that Ambit works with, it has connected its customers' equipment to the company's CRM system (also implemented by Ambit). Information sent out by sensors on the equipment is analyzed in short intervals and support cases are created and assigned automatically when threshold levels are detected for maintenance.
"Ambit's dual experience in building software products for Independent Software Vendors and implementing Enterprise IT solutions gives it unique advantage to cross-leverage experiences and cutting-edge innovation in delivering successful projects across domains like ERP, CRM, BPM, BI, HRM, Project Management and eMarketing." says Jenit Ramaiya, CEO & MD, Ambit Software.
Along with Cloud based ERP solutions, Ambit also offers horizontal solutions in the domains of finance, sales, purchase, digital marketing, support, service and human resources.
Read CIO Review here: PDF version | Online Version