A good Customer Experience strategy requires that you are able to serve your customers at the point of interface of their choice. Including an Omnichannel presence in your strategy ensures that the experience of your customer is seamless as they switch from channel to channel with minimal disruption to the flow of their interaction.
With B2B buyers demanding a B2C-like experience in their customer journey, your effectiveness of engagement has a direct correlation with matching your customers' choice of channels.
Ambit's proprietary CLIF (Customer Lifecycle-based Implementation Framework) methodology helps you adapt to your customer's changing channel preferences, regardless of the stage of a customer lifecycle they are in.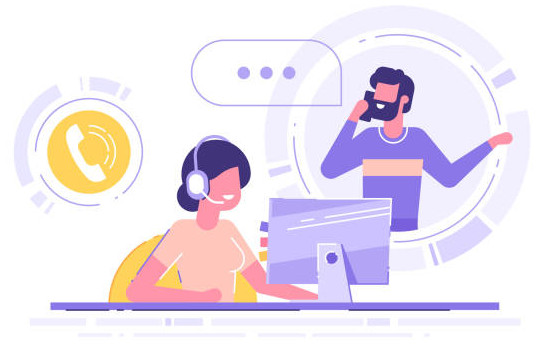 Email
Allow your customers to interact with you through email, be it an enquiry about a product, a complaint or a follow-up. Automatically acknowledge these emails and route them to relevant staff, displaying them in a to-do list, so no customer interaction falls into the proverbial abyss.

Internet
Boost traffic to your website and engage with your customers through chats. Using Ambit's Live Chat integration, deploy chatbots to cater to most common and simple questions and seamlessly hand-over to human agents at appropriate points. If you are in the B2B business, engage with your install base and prospects to improve customer experience.

Mobile
Enable your customers to reach out to you conveniently through their handsets, as it is the preferred interface, over desktop, even in the B2B space. Deploy Ambit's Live Chat, with its chatbots and auto-routing feature to engage real-time at the moment of purchase, request or complaint.

Compliance
Depending on the industry you belong to, you will have statutory data to disclose. By drawing information and insights directly from the CRM, your data is tamper-proof, and the process of collection of data is almost entirely automated.

Social Media
Integrate leading social media services to help your organization engage with your customers at their most convenient or frequented channel – Social Media. Improve online collaboration and leverage social business applications to increase productivity of your customer facing users. Build loyalty, boost awareness and listen to your customers round the clock.

Contact Centre
With access to more data, enterprises can now unlock actionable insights, leading to better experiences, both for consumers and businesses. Arm your agents with 360° information ensuring each interaction is efficient and value-adding. Ambit's CTI services will integrate your CRM with voice and chat platforms to boost employee productivity and experience.