Companies around the world know the importance of collaboration. It improves performance, creates an intrapreneurial attitude, and increases morale. We've seen a generation of tools and techniques that help improve collaboration. The age of cloud and mobile saw collaboration tools proliferate due to the ease of accessibility and availability. They truly became mobile.
Microsoft's PowerSuite Cloud is a complete set of powerful cloud-based enterprise-grade apps that help with high collaboration and seamless communication. However, the broad feature set and complex management of apps can quickly put your IT Admins behind on offering on-time support. It can lead to underutilization of the apps leading to low user adoption.
Ambit works with companies that want their teams to take full advantage of collaboration apps and added security. With the help of our engineers, companies have shifted their CapEx to OpEx. Our full-cycle PowerSuite Cloud Managed Services help IT teams ramp up onboarding, maintenance, and troubleshoot.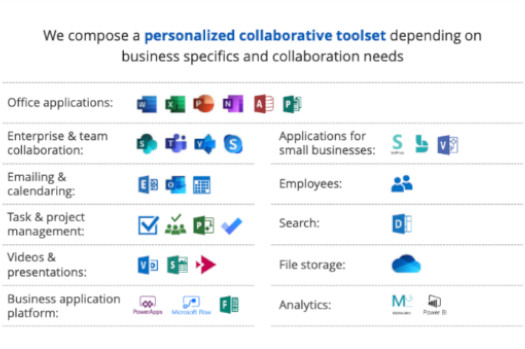 Features

Complete PowerSuite Cloud Managed Services
Get all your PowerSuite requirements fulfilled without the hassle of managing multiple support partners.

24/7 Support Availability
Our ODC is capable of supporting your PowerSuite requirements when they arrive. Our engineers are available 24/7 for all L3/L4 support requests.

Secure Office365 Environment
Build a bulletproof, secure enterprise apps environment for your teams to securely and confidently operate from remote locations as well.

Cost-effective Licencing & Renewals
Take full commercial advantage of our certification with Microsoft. Get the best price on new licenses and license renewals.

Office365 Advisory Services
Talk to PowerSuite experts. Get advice on how to think about your Office365 initiative. Ways to implement for a quick go-live. Learn challenges you might come across and how to factor them into your plan.

Office365 Customization Services
Tailor your Office365 experience. Work with certified engineers with hands-on experience in configuring and customizing PowerSuite to work for your particular use cases.