Ambit Software featured in SiliconIndia Magazine cover story and ranked amongst the Top 10 most promising ERP and CRM providers.
Pune, India – 3rd July 2016 – Ambit Software, a leading CRM and ERP solution provider, is featured on the cover page of SiliconIndia Magazine for its "Digital Transformation" with CRM solutions and ranked amongst the Top 10 most promising CRM providers for 2017.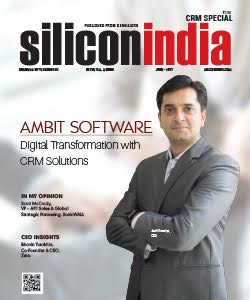 Ambit redefines CRM solutions through its vast expertise with various CRM products that deliver a 360-degree view of customer interactions across sales, marketing, customer service and support teams. This enables organizations to collaborate effectively and respond promptly with knowledgeable inputs to sales opportunities and customer inquiries – both in office and on the field. Being an established & innovation-driven technology company that has significantly invested in its research and development on futuristic technologies, Ambit's Digital CRM offerings encompass mobile sales and service, big data analytics, cloud migration, social media integration, sentiment analysis, and internet of things (IoT).
Ambit Software has, since its inception in early 2001, grown from strength to strength in terms of its customer base, service offerings, partnerships with IT majors, infrastructure and manpower. Over the years, it has formed alliances with various organizations such as SugarCRM, Salesforce.com, Microsoft (Gold Partner), Nuvi, & Sales fusion, and helped organizations leverage the solutions coupled with digital accelerators built by the company. Augmenting this technology backbone is Ambit's best-of-class industry experts who always begin assignments with a business-backward approach
"Over the years, we have helped our customers to be at the forefront of CRM technology, be it enabling mobile access to CRM, running e-marketing & social media campaigns, integrating sensor/IoT data, migrating to the cloud or analysing big data" states Jenit Ramaiya, CEO & MD. "With our ever learning pool of resources, we are well equipped to provide the most optimum CRM solutions to our clients – for today & tomorrow" he concludes.
Along with Cloud based CRM and ERP solutions, Ambit also offers horizontal solutions in the domains of finance, sales, purchase, digital marketing, support, service and human resources.
Read CIO Review here: Online Version
About Ambit Software:
Ambit Software is an enterprise applications and business intelligence solutions company. Ambit serves its customers through continued and focused efforts and high calibre working practices and procedures. The company has office in San Clemente, USA; Dubai, UAE; Amsterdam, The Netherlands and delivery centres in Pune and Mumbai (India). The company has been working with over 200 customers across the globe, providing them with innovative and cost effective solutions.